SAITEX
A force for change
Behind Rekut
SAITEX exists to prove business can be a force for good. While we are striving everyday to create positive environmental impacts, REKUT is born out of an ambitious mission of pursuing social justice.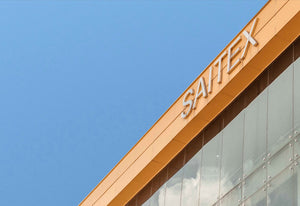 SAITEX X REKUT
Owned by SAITEX, REKUT carries out SAITEX's mission of recruiting at least 1000 people from vulnerable groups as our associates by 2025.
Cutting - REKUT

Sewing - REKUT

Washing - SAITEX

Packing - REKUT
After 5 months of training, REKUT associates are now proficient in operating a fully independent production line, the washing process is still being operated by SAITEX.
The reason being that due to local restrictions, people with disabilities are not allowed to work on certain tasks such as heavy machinery.
B Corp-certified factory
Based in Vietnam, SAITEX is the first B Corp-certified factory in Asia and the only large-scale denim manufacturer to meet the standards set forth by the organization.
They also uphold internationally recognized labor rights, providing their associates with living wages, ensuring a fair and respectful working environment, and adopting sustainable production practices.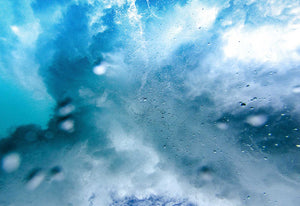 Water Impact
SAITEX is a zero-waste factory, where we recycle 98 percent of used water (the other 2 percent is evaporated). This closed-loop water system saves about 450 million liters of water per year, which is equivalent to the annual water consumption of 432,000 people.

Energy Impact
40% of the electricity used at SAITEX comes from solar and hydropower, and 100% of the heat comes from steam generators that use biomass, which is sawdust emitted from the agriculture and furniture manufacturers instead of fossil fuels. The garments are then air-dried in an aerial drying system, a simple conveyor: garments are hung up in the factory's upper area for up to three hours to air dry. This process reduces the dryer time from 105 minutes to just 25. This means that 5,844,575 kilograms of fossil fuel use was avoided in 2019.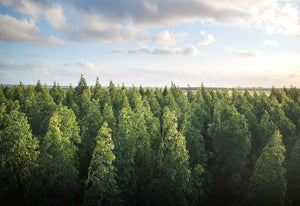 Carbon Offsetting
While committed to carbon neutrality by 2023, SAITEX has been planting 6000 trees in its industrial area, and 2000 trees in Xuan Lien forest, in partnership with the local NGO Gaia. These trees help to absorb over 160,000kg of CO2 per year.
Laser Technology
Advanced technology could help us minimize the manufacturing impacts on the society and the environment. With innovative approaches, such as etching designs into denim with a laser cutter, it helps to shorten the manual process from 30 minute to only 90 seconds, and replaces the conventional use of sandpaper and the chemical potassium permanganate to create a worn-in effects on jeans. This laser process maintains consistency in production, which results in waste, garment and chemical reduction and less pressure on manual labor.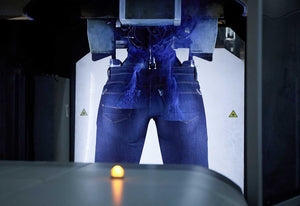 Community Development
SAITEX donates 0.1% of its revenue to social impact campaigns, which helps to support 603 children and adults at three orphanages and one disability center in Vietnam. When these children turn 18, they are provided the opportunities to be trained and recruited at REKUT with equal pay, respect and dignity.
Waste Reduction
REKUT production mainly comes from pre-consumer and post-consumer waste, SAITEX has partnered with an upcycling factory in Thailand called STELAPOP (an acronym for Save Trees, Eliminate Landfills and Protect Our Planet). Using a proprietary binder, STELAPOP transforms discarded denim into multipurpose panels that can be used in a wood-making process to build furniture and other everyday products.